2018 Oratorical Festival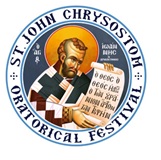 THE 2018 ST. JOHN CHRYSOSTOM PARISH ORATORICAL FESTIVAL AT ST. GEORGE WILL BE HELD ON SUATURDAY, FEB 17, 2018.

Send completed registration forms to Eleni Demirtzoglou - eleni.demirtzoglou@stgeorgehollywood.org
About the Festival
The St. John Chrysostom Oratorical Festival was created by the Greek Orthodox Archdiocese Department of Religious Education in 1983 to provide junior and senior high school students an opportunity to research and to prepare a short speech on one of a predetermined set of topics and talk about their faith. There are parish, district, and Metropolis Festivals, culminating in the Archdiocese Festival.
Purpose
The purpose of the St. John Chrysostom Oratorical Festival is to give teenagers an opportunity to learn, write, and speak about their Orthodox Faith, Church, and Heritage. This process will enhance their understanding and appreciation of their identity as Greek Orthodox Christians, and cultivates spiritual growth and maturity. The overall Oratorical program is called an Oratorical Festival rather than a contest to minimize the competitive spirit and emphasize a joyful learning experience.
For further information and links: https://www.goarch.org/-/st-john-chrysostom-oratorical-festival and https://www.goarch.org/departments/religioused
2018 Important Documents
Elementary Division Information